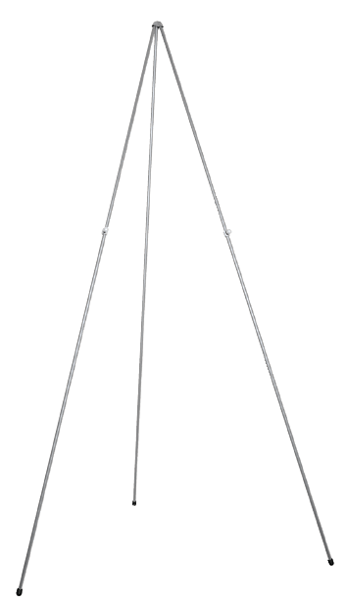 Floor Easel: "Presto" - SilverFor portable presentations, aluminum legs, metal heads; will hold up to 5 lbs. This unit folds to a 'brief case' size which is perfect for tradeshow displays.Dimensions: **Diameter - 5 3/8"**Open Height - 61.5"**Closed Height - 14"#700101 $49.95 each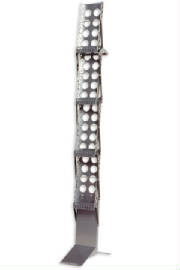 Literature Rack: Collapsible "Illusion" A fast-folding rack with four front facing pockets. This unit may be pre-loaded and collapsed for easy transport. Carry bag is included..Available in Silver or BlackDimensions: 21" x 12" x 11"Weight: 19 lbs.#700109$175.00 each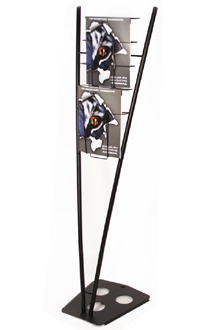 Literature Rack: Modular "Victory" This is a slim and attractive 5 front facing pocket unit. This unit has a 'snap-together' design for easy installation. Carry bag included.Available in SilverHolds 8.5" w x 11" h (.62" deep)Shipping Dimensions: 31" x 17" x 5"Weight: 11 lbs.#700110$175.00 each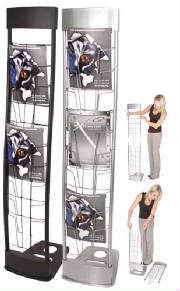 Literature Rack: Innovative 10 PocketStylish and practical with a modular design which allows packing the unit into three separate parts for reduced shipping size. Carrying bag included.Available in SilverHolds 8.5" w x 11" h (.62" deep)Shipping Dimensions: 34" x 12" x 9"#700111$195.00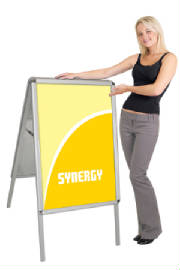 Signboard: "A-Frame Synergy"This double sided sign board accepts 23.25" w x 33" h graphics or posters. This unit is designed for indoor or outdoor use. Construction is of aluminum components.#700108$215.00 each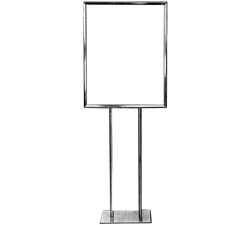 Bulletin Sign Holder: Flat BaseA popular, widely used metal floor standing bulletin sign holder. Versatile for all types of business.Chrome Only - Round LegDimensions: Accepts: 14" w x 22" h cardOverall Height: 53" hFlat Base: 10" x 14" #1700022 $69.95 eachDimensions: Accepts: 22" w x 28" h cardOverall Height: 60" h Flat Base: 10" x 14"#1700028 $89.95 each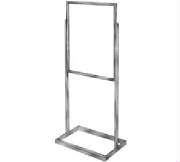 Bulletin Sign Holder: Rectangular Tubing BaseOption to the above bulletin sign holder, just as popular and widely used metal standing bulletin sign holder.Dimensions: Accepts: 22" w x 28" h cardOverall Height: 56" hFrame Base: 15" x 24" rectangular#1700030 - Chrome$94.95 each#1700031 - Black$94.95 each

Horizontal Card Frame: Top LoadingChromeDimensions: 7" w x 5.5" h#1740050 $8.75 each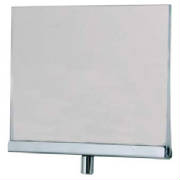 Sign Holder: Chrome Channel with 3/8" Tread/FittingMetal channel chrome sign/card holder for clear acrylic. Available is several sizes.Dimensions: 5.5" w x 7" h #1701245 - $10.75 eachDimensions: 7" w x 5.5" h#1701246 - $10.75 eachDimensions: 7" w x 11" h#1701247 - $12.25 eachDimensions: 11" w x 8.5" h#1701248 - $15.50 eachDimensions: 8.5" w x 11" h #1701250 - $15.50 each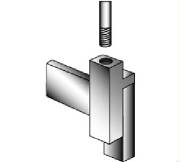 Sign Holder: Clamp Patented Magnetized - 3/8" ThreadClamp will fasten securely to square and rectangular tubing.#1900020$5.50 each
Adjustable Upright Stem for Sign HoldersFinish: ChromeDimensions: 5/8" Adjustable: 36" to 72"#1900072$17.75 each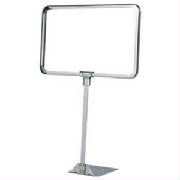 "Shovel' Base(Shown with our 7" x 11" Card Frame)Finish: ChromeDimensions: 5" w x 5.5" d$2.75 each
Canvas Print Rack
Black fabric folding print rack for artwork.Dimensions: 20" w x 6" d x 36" h
# 500 $84.95
A-Frame Outdoor Sign Holders
Black or White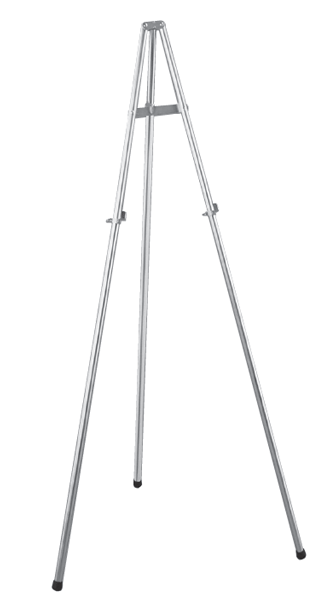 Floor Easel: Heavy-DutyMade of metal construction riveted for outstanding strength. This easel comes fully assembled and folds flat for easy storage. Also, adjustable sign holders, rubber tipped legs.Dimensions: **Height: 57.5" **Weight: 4 lbs.#1006602 $59.95 each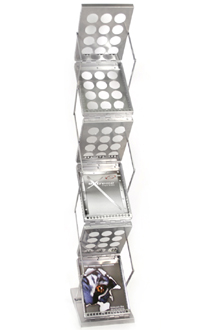 Literature Rack: Collapsible "zedup1" This collapsible literature rack is a single unit with 6 pockets and packs away for easy transportation. ♦Silver onlyCarry bag included.Dimensions: 16" x 12" x 9"Weight: 20 lbs$195.00 each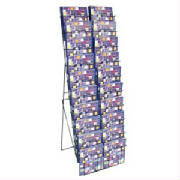 Literature Holder: "Freestanding"This unit is a 20-pocket holder for 8.5" x 11" material. Also, may be used as a wallmount unit in addition to the 'freestanding' style.Dimensions: 20" w x 54" h with 3.25" deep pockets#3300020 - Black#3300021 - White$87.95 each
"Contender" Carry BagThis carry bag allows the unit protection and travels easily from one location to another.See "Contender" Standard - Banner Stand below.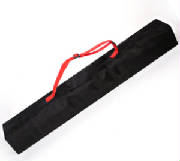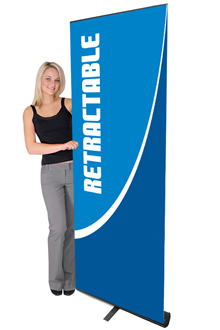 Banner Stand: Retractable "Contender Standard"This unit offers a strong construction combined with a sleek and ergonomic appearance. Carrying bag included, as shown.Graphic Size Dimensions: 29.5" w x 77.5" h Actual Unit Width: 29.5" w$433.00 (reg, freight)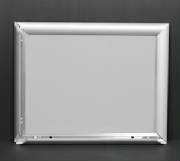 Poster Frame: "Snaps Open" Edge - Plain View ShownPlease view various sizes and formats below.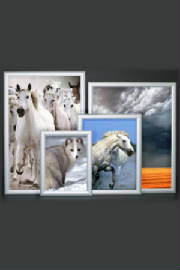 Poster Framing System: Tappa "Snap Edge" Snap open from the front for quick and easy graphic changes and comes with a clear protective lens. This system features a set of spring-loaded aluminum extrusions mounted to a high-impact polystyrene backer. Comes in silver only.Dimensions Available:♦8.5" w x 11" h#5200020 $27.00 each♦11" w x 14" h
#5200021 $31.50 each♦22" w x 28" h
#5200022$60.00 each♦24" w x 30" h
#5200023 $70.50 each♦24" w x 36" h
#5200024 $79.50 each♦30" w x 40" h
#5200025 $91.50 each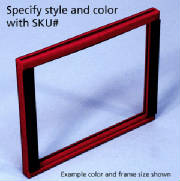 Cardholder: Magnetic Strip The magnets strips are mounted on the back side; attaches firmly to most metal surfaces.Includes (attached) two 1.5" x 5" magnetic strips per frame.Dimensions: 7" w x 5.5" hIn Stock: Red (shown) or Black(#200 - special stock item)$6.95 each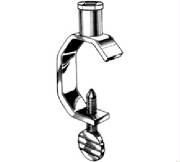 Clamp with 3/8" Swedge Fitting "C" ClampFinish: ChromeLength: 1.5"Fits round, square and rectangular tubing and has swedged fitting for sign holder. The square end gives a secure fit on hangrails, racks so the sign does not rotate. The round stems taper at the end to form a square.$2.95 each
Round Base for Sign HoldersFinish: ChromeDimensions: 5" diameter; 5/8" fit#1900005$10.50 eachDimensions: 6" diameter; 5/8" fit#1900006$14.25 eachDimensions: 8" diameter; 5/8" fit#1900008$17.75 eachDimensions: 10" diameter, 5/8' fit#1900110$23.95 each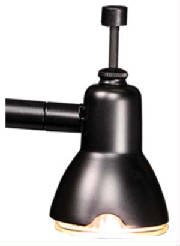 "Lumina 1 - Power Spot50 watt, low voltage spotlight with single 'goose neck' arm. Mount standard with Universal Light Clamp Kit.Black#800100$89.00 each